Product Price,Matching machine
---

PRICE LIST
all price excluding your domestic tax.
---
Name
Price
(JNY)
Assembly finished goods
FRONT BRAKE*1
210,000
JNY263,550(18in)
JNY264,600(19in)
FRONT SPOKE*2
10,500
FRONT 18in RIM*3
32,550
FRONT 19in RIM*3
33,600
REAR BRAKE
183,750
rear brake complete have defferent size about sprokets and chain line.
Please ask for details.
REAR SPOKE*2
10,500
REAR 18"2.15RIM*3
36,750
*1). lever, torque rod, wire are included.
include speed gear type JNY10,500 UP
*2).36 spokes
*3). rim is AKRON aloy production.

* price and specification@are changed without notice.
*Payment must be in Japanese yen.Exchanges rates vary,but are approximately JNY115 to $1,or JNY210 to 1pounds (Apr 2006)
Assembly finished goods(FRONT)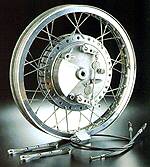 *click for large photo
---
ADAPTION SYSTEM
---
KAWASAKI W650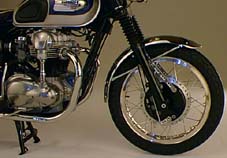 YAMAHA
SR400
YAMAHA
SR500
HONDA
GB250
KAWASAKI
ESTRELLA
*Please inquire regarding other matching machine types.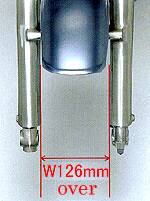 * W126mm or more needed .
*under W126mm , expand the front fork width.